Project Reader by K-SOL is a viewer for Microsoft Project. Project Reader is a windows desktop application which lets you open, print and export Microsoft Project MPP files ,Microsoft Project MPT files , Microsoft Project XML files or Microsoft Project Server without requiring MS Project.
Project Reader is a cost-effective solution for all your employees to instantly access all Microsoft Project plans, stored in your company computers. You can download for free and try our viewer for 30 days.
below the Gantt Char view of our Viewer for Microsoft Project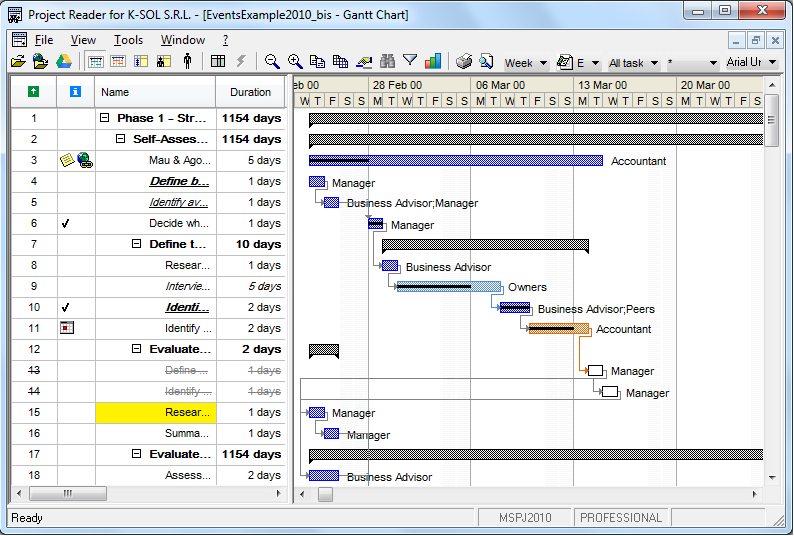 Opening
Support for MPP file format from MS Project 98 to MS Project 2019; support for Project Server from version 2003 to version 2010
Views
Gantt Chart; Tracking Gantt; Task Usage; Resource Usage; Resource Sheet
Printing
All views are printable; print preview; change printer settings; scaling; customizable footer; printing from the command line
Visual Reports
This features allow you to launch Excel Visual Reports from Project Reader. Three reports available at this time:

- ProjectViewerReport Baseline Cost Report
- ProjectViewerReport Baseline Work Report
Other Functions
Tables (add/remove fields, save custom table); task, resource and assignment details; sort by column; resource or group filtering; smart find; custom filters; export to external files: XML and CSV file format; support for the linked projects; support for Microsoft Project tables; object model programming via Visual Basic for Application; open files via HTTP; open files from Google Drive and Dropbox; and other useful functions...
It reduces license costs, it saves up to 95% of the cost of purchasing Microsoft Project Standard when you only need to view project plans.
It enables total control of the project progress sharing your Microsoft Project plans with everyone on the extended project team.
Project Viewer Standard Edition
Desktop license: €25 or $29
Concurrent License: €80 or $92
Company License unlimited users: €4025 or $4625
Project Viewer Professional Edition
Desktop license: €35 or $40
Concurrent License: €100 or $115
Company License unlimited users: €4200 or $4830
Project Viewer Professional Edition add the features below
Open plans on Project Server. Versions between 2000 and 2010
Project Reader VBA Scripting
Excel Visual Reports from Project Reader


For more information about price, licensing and options please visit the price page at ProjectReader.com or contact us at support@projectreader.com